BROKEN RECORDS
"Sounds like a broken record"
---
Artist: Off The Wall
Album: Ground Zero
Their first and (so far) only full length release, originally available only on vinyl. Entirely written and produced by the band, this eclectic mix of styles and virtuousity creates a unique musical document.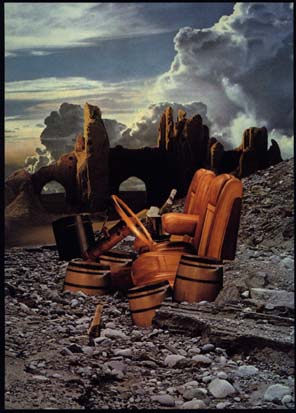 | | |
| --- | --- |
| Side One | Side Two |
| Kings of Fleet Street | City Boy Bump |
| Hippos Go Berserk | Sellin' Out |
| Hey Carmella | Ground Zero |
| Don't Need No Help | Over The Hill |
| Late at Night | |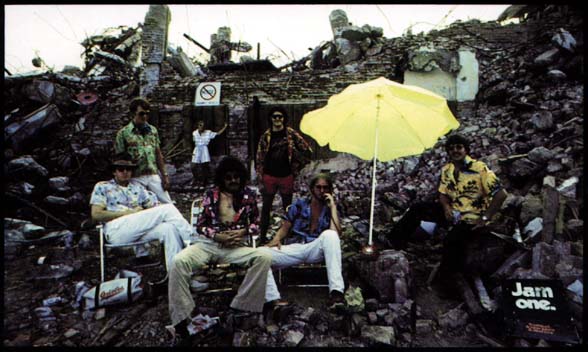 Personnel
Jim Ball: guitars, vocals
Glenn Workman: piano, organ, tenor & baritone saxes, marimba, vibes, toy piano, additional guitar on "City Boy Bump:, vocals
Steve Sandkuhler: harmonicas, congas, alto sax, percussion, vocals
Scoop: fretless bass, vocals
Dayton Alford: drums and cymbals
John Ball: all them frequencies

Additional musicians:
Steve Krimmelbein: trombone
Jim Wesloh: trumpet
Kirsten Sandkuhler: vocal recitation on "Hippos Go Berserk"
Evan Workman: special vocal appearence on "Hippos Go Berserk"

Produced and mixed by Off The Wall
Brass arranged & conducted by Glenn Workman with help from Jim Ball and Steve Sandkuhler
John Ball: production engineer
Bill Mueller: technical engineer

All songs © 1983 Off The Wall Music, all rights reserved

Recorded at Sheffield Recordings, Ltd., Phoenix, MD.
Mastered by Alan Moy at Masterdisk, N.Y., N.Y.
Photography by Richard Anderson, Baltimore, MD.
Album cover and label Design and illustration by Pete Traynor, Baltimore, MD.
---

This album is still available in its original vinyl form. CDs are also now available for the first time.